SUPERNATURAL
PLEASE SIGN MY GUEST BOOK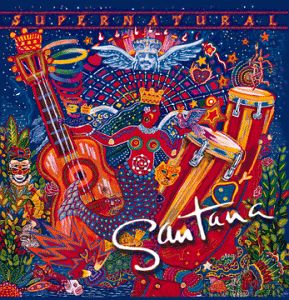 SANTANA, SUPERNATURAL
ARISTA 1999
FOUR STAR RATING
Rating System
5 Stars Excellent
4 Stars Very Good
3 Stars Good
2 Stars Fair
1 Star Poor

Contents
| | |
| --- | --- |
| | (Da Le) Yaleo |
| | Love of My Life, featuring Dave Matthews |
| | Put Your Lights On, featuring Everlast |
| | Africa Bamba |
| | Smooth, featuring Rob Thomas |
| | Do You Like The Way, featuring Lauryn Hill & Cee-Lo |
| | Maria Maria, featuring The Product G&B |
| | Migra |
| | Corazon Espinado, featuring Mana |
| | Wishing It Was, featuring Eagle-Eye Cherry |
| | El Farol |
| | Primavera |
| | The Calling, featuring Eric Clapton |
| | Celebration Day, (unlisted bonus track) |
Santana Musicians
| | |
| --- | --- |
| | Carlos Santana, Guitar |
| | Chester Thompson, Keyboards |
| | Raul Rekow, Congas |
| | Karl Perazzo, Timbales |
| | Tony Lindsay, Vocals |
| | Benny Rietveld, Bass |
| | Rodney Holmes, Drums |

REVIEW
He did it! Carlos managed to pull together popular artists from diverse genres to record an album that is elegant, spicy and robust while maintaining the refined level of musicianship which Santana fans have come to expect. Guest artists include Lauryn Hill, Dave Matthews, Eagle-Eye Cherry, Cee-Lo, Everlast, Wyclef Jean, Mana, Eric Clapton and Matchbox 20's Rob Thomas.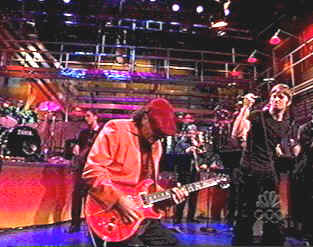 Santana and Rob Thomas Performing The Grammy Winning
Song of the Year
"Smooth"

The lively and danceable Yaleo delivers both uplifting vocals and an exceptional instrumental performance. Veteran keyboard man Chester Thompson contributes a rousing and jazzy piano solo and Carlos fires off hundreds of notes on guitar in a style, which harkens back to "Flame Sky" from 1972's Welcome. The Mandrill style horns add the finishing touch. Santana performed Yaleo on national television in June at the ALMA awards.
Do You Like the Way features hip-hop artist Lauryn Hill and singer Cee-Lo. This song is comprised of two distinct parts, which compliment each other and flow together well. In part one Hill delivers a positive and encouraging message in Fugees hip-hop style, but it is Cee-Lo 's soulful work on the second half of this track that embraces and holds the listener. Carlos' work on this piece is masterfully low key, preserving and enhancing the soulful mood.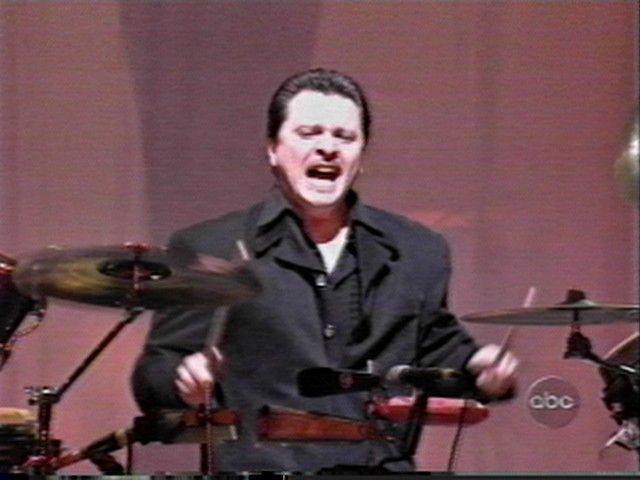 Santana Timbale Player, Karl Perazzo
Appearing on Supernatural is Carlos' longtime friend and fellow guitar guru Eric Clapton. At this year's Grammy Awards in February, Clapton, who was seated in the front row, could see and hear everything. He was so excited about Carlos's appearance with Lauren Hill that following the show he approached Carlos and asked to be a part of Carlos' next project. That project of course was Supernatural and the song on which Clapton collaborated is The Calling.
Santana and Dave Matthews Performing "Love of My Life"
on VH1's Hard Rock Live

The Calling is a mid-tempo number, which serves as the perfect vehicle for Carlos and Eric to showcase their guitar chops. More specifically, their blues guitar chops. For the first two and a half minutes there is no rhythm section, just Carlos and Eric trading licks. These two masters had very little time to rehearse together. Clapton showed up at the studio with his legendary "strat" in tow ready to jam with Carlos.
The last time I heard Clapton and Santana together on record was on Clapton's, Crossroads, when Santana joined Clapton and his band live onstage to jam on "Why Does Love Have To Be So Sad"? This reunion was long overdue.
In California "Smooth" is burning up the airwaves. On one Friday in early July the DJ at the Zone, 100.5 FM in Sacramento stated that in one hour the station received 25 requests for "Smooth". "Smooth" features two highly stylized voices, that of Rob Thomas of Matchbox 20 and that of Carlos on guitar. Carlos' voice on guitar is instantly recognizable on this one. The instrumental portion of this song is high-powered vintage Santana complete with hot percussion. Rob Thomas is more than up to the task. His delivery would interest listeners even if they didn't understand English; it's that appealing and interesting.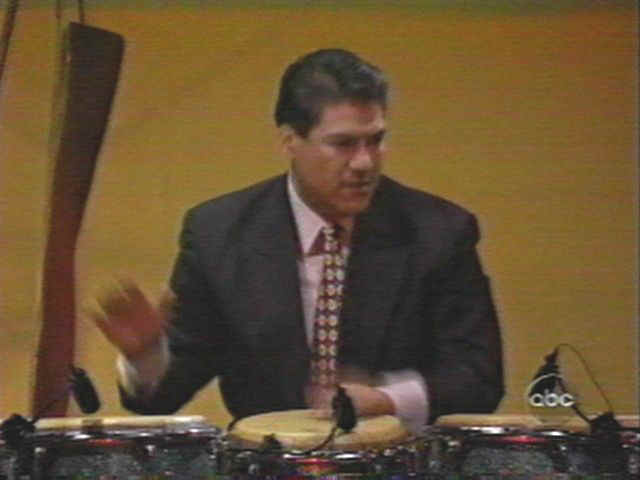 Santana Conga Player Raul Rekow
My personal favorite is Wishing it Was, featuring vocalist Eagle-Eye Cherry. The music has a definite Latin swing to it, with Carlos seamlessly weaving in and out and around Eagle-Eye Cherry's delicate vocal delivery. For this song the subtle vocal approach is perfect, coming across a very cool.
The giant Billboard above the Tower Record on Broadway in Sacramento signals the return of Santana to commercial success. That success, by the way, didn't happen by accident. From it's inception Supernatural had the support of music industry heavy weight Clive Davis of Arista Records. In the spring of 1998 Clive Davis of Arista Records was encouraged to come and listen to some of the new things Santana was working on. He immediately liked what he heard and Santana was signed to Arista with the goal of creating a record would bring Santana's music back to the airwaves.

Mission accomplished, Supernatural is already certified multi platinum, with sales exceeding 10 million since in the Summer of 1999. Supernatural is impressive and cohesive despite it's varied components. Certain to win many new converts, while satisfying longtime followers. Five Stars. GG

This page best viewed at 800 x 600 pixels
This site is optimized for Internet Explorer 4.0 or higher
Contact Information
Electronic mail

Webmaster: selaznog.co@netzero.com