Scroll down for the latest additions.

Click on the images for a larger view.

Mid Seventies

Concert Poster

Sustain: a signature Carlos technique



Rare photos of John Mclaughlin and Carlos Santana in the studio during the "Love Devotion and Surrender" sessions. Doug Raugh on bass is visible in the background.


Back Cover of "Supernatural" without Printing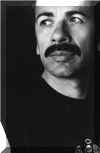 Carlos Close Up


Original Six

Original Six Black and White

In the studio recording Santana I, Dave Brown on bass in the background. Photo by Jim Marshall

View from the Woodstock stage. Photo by Jim Marshall.

At Altamont in 1971. Photo by Jim Marshall.

Carlos in action, circa 1993.