SANTANA III
PLEASE SIGN MY GUEST BOOK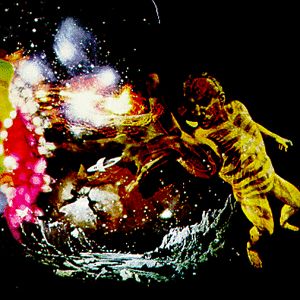 FIVE STAR RATING
SANTANA III
COLUMBIA 1971
Content
| | |
| --- | --- |
| | Batuka |
| | No One To Depend On |
| | Toussaint L'Overture |
| | Everybody's Everything |
| | Guajira |
| | Jungle Strut |
| | Everything's Coming Our Way |
| | Para Los Rumberos |
| | Three Bonus Tracks on the Expanded Edition Recorded Live from the Fillmore West; Batuka, Jungle Strut, Gumbo. |
Santana Musicians
| | |
| --- | --- |
| | Jose "Chepito" Areas, Timbales, Conga, Percussion, Vocals, Drums and Flugelhorn |
| | David Brown, Bass |
| | Michael Carabello, Conga, Vocals, Percussion and Tambourine |
| | Gregg Rolie, Piano, Organ and Vocals |
| | Carlos Santana, Guitar and Vocals |
| | Neal Schon, Guitar |
| | Michael Shrieve, Drums, Percussion and Vibes |
Review
Although the album cover for Santana's third album makes no reference to the album's title, it has become known as Santana III, and is sometimes referred to as the "The Man With the Outstretched Hand", a reference to the cover art.
Santana III reached and stayed in the number one position on the Billboard charts for five weeks, only Abraxas held the top spot longer, six weeks. These long-standing records, however, may soon be broken as Supernatural continues to ascend the Billboard charts.
For Santana III, the group expanded to a seven-man line-up, the original six plus guitarist Neil Schon. Make no mistake, in spite of his youth at the time; Neil was a skillful player, so much so that Carlos and Neil shared the lead guitar work throughout Santana III. Neil's abilities were already well known to Bay Area audiences and as it turns out to a few others. In the same week, 15 year old Neil was offered a job as guitarist by both Santana and Eric Clapton then with Derek and the Dominos. Neil joined forces with Santana. "They asked me before Eric Clapton did and I had already given my word".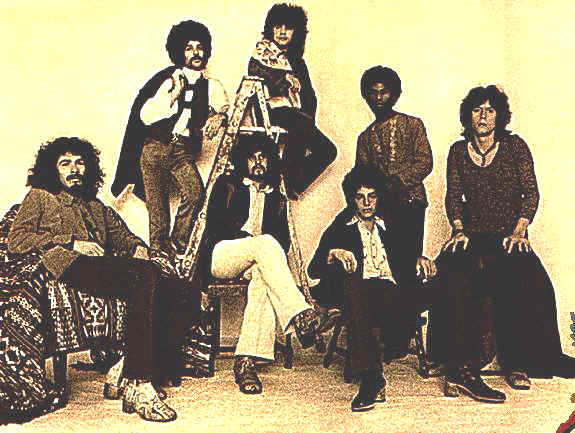 Carlos Santana, Mike Carabello, Gregg Rolie, "Chepito" Areas, Neil Schon, Dave Brown, Mike Shrieve

We don't have to wait long to hear and feel the impact of Neil's guitar. On the second cut, No One to Depend On, Carlos solos first for six bars and then Neil steps up to the plate and delivers...making his Les Paul "scream with the best of them" for twelve bars. Neil plays with gusto and has no trouble keeping up with Carlos. He definitely caught my attention when I realized how closely I had to listen to determine whether it was he or Carlos who was playing.
Santana III has a much to offer the discerning listener and my views about this album have changed over the years. In the first few years following its release I favored No One to Depend On and Everybody's Everything, the hits. As the years passed I grew to appreciate the clean beauty of the acoustic guitar and Carlos' lead vocal on Everything's Coming Our Way.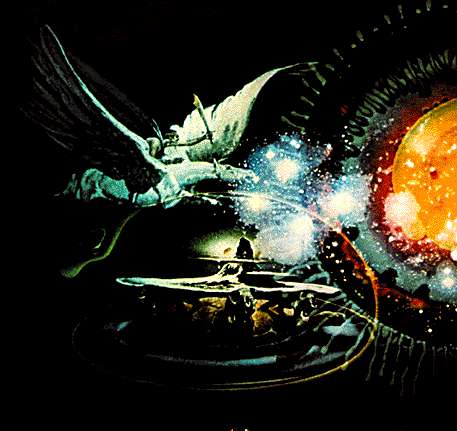 Santana III, Back Cover

On Batuka, Carabello and Chepito quietly fade in with a steady conga and cowbell beat, the beat upon which the entire piece is built. One by one, drums, bass, guitar, a second guitar and finally organ are layered on top of the percussion foundation. The band plays and repeats the same line over and over, louder and louder, building and driving to a forceful crescendo. I would have been satisfied if the band would have continued playing that line over and over it's that good. It seems for a moment that the song has reached it's peak and I expected things to slow down and the song to end, but the song continues on to the next level which features guitar and organ solos.
Batuka is another powerful Santana instrumental... another indication of the depth of talent this band had. Not many groups have instrumental tracks on their albums which are truly impressive. At this point Santana was playing what came naturally. They had not yet bowed to record company pressure to create commercial records.
For years Batuka wasn't on the Santana concert play-list but in recent years has enjoyed a rebirth, and has become a semi-regular at Santana concerts. Energetic live versions of Batuka and Jungle Strut, recorded at the Fillmore in 1971, appear as bonus tracks on the re-release expanded edition of Santana III.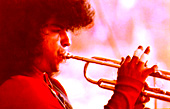 "Chepito"
Jungle Strut is another instrumental which deserves mention here. From the opening chords on organ Jungle Strut creates a tense atmosphere. The whole piece, all of the breaks, all of the solos have a sense of urgency about them. Jungle Strut features three soloists, Gregg on organ and Carlos and Neil on guitar. Solos after solo in rotation the players beg and pull at each other demanding more and more. Don't listen to Jungle Strut if you're tired or need to unwind.
There is a huge difference between hearing and listening, and like all great music, Santana III, can be enjoyed on either or both levels. Just hearing this music is a pleasure, but if you want to gain a true appreciation of the level of musicianship this band had attained, put on your headphones, close your eyes and listen.

The beauty of rock music is that it is constantly evolving. A lot of music on today's top 40 rock charts has strong folk music underpinnings with a clear emphasis on storytelling with acoustic guitar accompaniment. Santana III was released in an era when the emphasis was still very clearly on musicianship. Or more accurately, there was an emphasis on musicianship because Santana and a few others were placing the emphasis on musicianship. Very simply, these guys could play. Five Stars. GG

This page best viewed at 800 x 600 pixels
This site is optimized for Internet Explorer 4.0 or higher
Contact Information
Electronic mail

Webmaster: selaznog.co@netzero.com