SANTANA I
PLEASE SIGN MY GUEST BOOK



SANTANA I
COLUMBIA 1969
FIVE STAR RATING
Rating System

5 Stars Excellent
4 Stars Very Good
3 Stars Good
2 Stars Fair
1 Star Poor

Contents
| | |
| --- | --- |
| | Waiting |
| | Evil Ways |
| | Shades of Time |
| | Savor |
| | Jingo |
| | Persuasion |
| | Treat |
| | You Just Don't Care |
| | Soul Sacrifice |
Santana Musicians
| | |
| --- | --- |
| | Carlos Santana, Guitar and Vocals |
| | Mike Carabello, Conga and Percussion |
| | Dave Brown, Bass |
| | Jose "Chepito" Areas, Timbales, Conga and Percussion |
| | Mike Shrieve, Drums |
| | Gregg Rolie, Piano, Organ and Vocals |
| | |

Review
This is the one that started it all. Recorded and mixed in three weeks at Pacific High Studios, in San Mateo California, the self titled Santana, commonly referred to as Santana I, was released in late 1969 following the bands show stopping performance at Woodstock.
This album introduced Santana's now classic blend of Rock and Jazz over heavy African and Latin rhythms. Wow! Holding it all together is Carlos' blistering guitar work.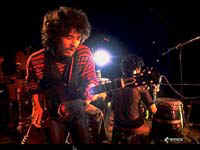 Santana I spawned the band's first hit, Evil Ways, and featured the original six-man line-up, which stayed together through Santana III. Many consider this the band's strongest line-up. Santana, at this point, was still a reference to the group.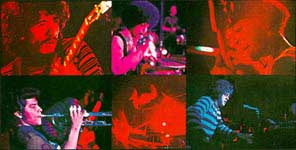 Top Panel: Carlos Santana, Michael Carabello, Dave Brown
Bottom Panel: "Chepito" Areas, Michael Shrieve, Gregg Rolie

Savor is like an adrenaline rush. Carlos strums through this one letting Chepito, Carabello and Shrieve lay it down on percussion. Savor has a very, New York streets in the summer kind of feel to it, hard and fast. Chepito's virtuosity is evident on his solo during the fad into Jingo.
"Jingoism" means a warlike or aggressive foreign policy. Carlos' playing on Jingo is consisted with the title...intense, almost angry. The vocals are simple but effective, delivered as a driving, warlike, chant "Jin-gooo". Again, the percussionists shine, but it's all of the elements together that make Jingo pure fire.
Gregg tickles the ivories on the mellow intro of Treat, which shifts to double time for inspired solos by Gregg and Carlos. The excitement reaches it's peak, the dynamics change, and everything drops back to the dreamy after hours lounge pace which opened the piece. An early, notable, version of Treat appears on the 1997 Columbia Legacy release, Santana Live at the Fillmore.
Yet another highlight is Soul Sacrifice...a composite of extended Santana jams. The best elements were gleaned from the jams, polished for the Woodstock appearance and further refined for Santana I. Even the studio version of Soul Sacrifice cooks.

This debut album is high octane. Except for the intro to Treat there is not a moments rest for the listener. Santana's star was quickly rising. Five Stars. GG

This page best viewed at 800 x 600 pixels
This site is optimized for Internet Explorer 4.0 or higher
Contact Information
Electronic mail

Webmaster: selaznog.co@netzero.com