RIVER OF COLOR AND SOUND
PLEASE SIGN MY GUEST BOOK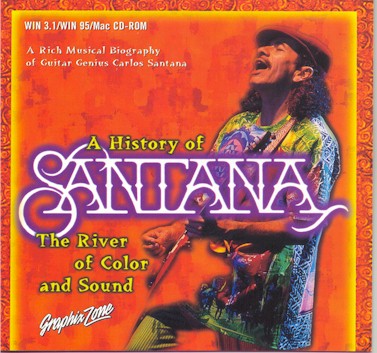 A HISTORY OF SANTANA - The River of Color and Sound
MULTI-MEDIA CD-ROM
GRAPHIX ZONE 1996
Contents
| | |
| --- | --- |
| | The Electric Church |
| | Guitar Instruction |
| | The Live State |
| | Influences |
| | History |

Review
The River of Color and Sound (RCS) is a multi-media CD-ROM, published in 1996 by Graphix Zone. The RCS is organized into five categories, the Electric Church, History, Love Performances, Influences and Guitar Lesson.
The Electric Church is an actual two-story building owned by Carlos. Both floors can be explored. The user navigates with the mouse using the point and click method.
There are three highlights on the first floor; the Poster Room, the Shirt Museum and the Passes and Tickets Collection. The Passes and Tickets are from concerts all over the world, dating back to the seventies. Each ticket can be viewed as a thumbnail or clicked for a larger view. In the Shirt Museum you view Carlos' tee shirt collection which features colorful images of artists who have influenced Carlos.
Guitar players will feast on the Guitar Room on the second floor. Carlos' guitars are on display and through the miracle of multi-media, each can be rotated for front, side and back views. You can also click on the body or neck of each guitar for a close up of that portion.
For me, the information in the Live Performance section is alone worth the price of the disk. A Santana band tour schedule dating back to February of 1969, a list of Santana guest appearances, names and instruments of former band members and short video clips of live performances are all included in this section. Short video interviews of current Santana members are also in this section.
The History section provides a wealth of information for fans to sink their teeth into including a year by year summary of noteworthy band activities as well as rare photos and the cover art from all of the albums released in the United States.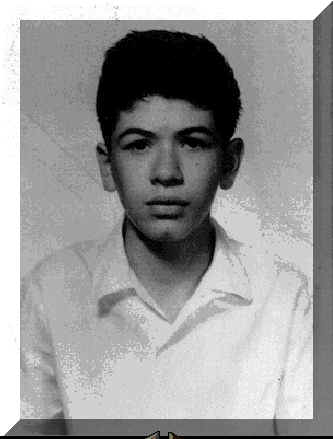 From the History section of the River of Color and Sound; thirteen year old Carlos in 1960.
If that wasn't enough, in Guitar Lesson, we are treated to exclusive footage of Carlos playing excerpts from five Santana classics; Oye Como Va, Europa, Black Magic Woman, Bella and Samba Pa Ti. For each he discusses his Technique, tone and inspiration.
Screen shot from the Guitar Lesson section; Carlos discusses his technique on Oye Como Va.

In recent years Carlos has taken to wearing brightly colored shirts with artwork depicting his influences. The RCS has a similar look and feel and of course as you explore the disk Santana music is playing in the background. It was easy for me and my brother (another big fan) to get lost in the History section for a couple of hours; there's a lot of information here. I also enjoyed looking through Carlos' concert tickets to see if he had saved tickets to any of the concerts I had attend, and in fact he had.

At the RCS box indicates, this is a rich musical biography of Guitar Genius Carlos Santana. A must have disk, fun for the casual fan and in-depth enough for the serious devotees. GG

This page best viewed at 800 x 600 pixels
This site is optimized for Internet Explorer 4.0 or higher
Contact Information
Electronic mail

Webmaster: selaznog.co@netzero.com