Santana

Click on image for a larger view.

FIVE STAR RATING * * * * *

***** Excellent
**** Very Good
*** Good
** Fair
* Poor

This is the one that started it all. Recorded and mixed in three weeks at Pacific High Studios, in San Mateo California, the self titled Santana, commonly referred to as Santana I, was released in late 1969 following the bands show stopping performance at Woodstock.
This album introduced Santana's now classic blend of Rock and Jazz over heavy African and Latin rhythms. Wow! Holding it all together is Carlos' blistering guitar work.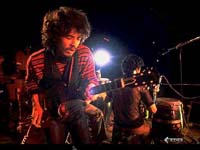 Santana I spawned the band's first hit, Evil Ways, and featured the original six-man line-up, which stayed together through Santana III. Many consider this the band's strongest line-up. Santana, at this point, was still a reference to the group.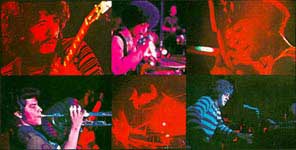 Top Panel: Carlos Santana, Michael Carabello, Dave Brown
Bottom Panel: "Chepito" Areas, Michael Shrieve, Gregg Rolie

Savor is like an adrenaline rush. Carlos strums through this one letting Chepito, Carabello and Shrieve lay it down on percussion. Savor has a very, New York streets in the summer kind of feel to it, hard and fast. Chepito's virtuosity is evident on his solo during the fad into Jingo.
"Jingoism" means a warlike or aggressive foreign policy. Carlos' playing on Jingo is consisted with the title...intense, almost angry. The vocals are simple but effective, delivered as a driving, warlike, chant "Jin-gooo". Again, the percussions shine, but it's all of the elements together that make Jingo pure fire.
Gregg tickles the ivories on the mellow intro of Treat, which shifts to double time for inspired solos by Gregg and Carlos. The excitement reaches it's peak, the dynamics change, and everything drops back to the dreamy after hours lounge pace which opened the piece. An early, notable, version of Treat appears on the 1997 Columbia Legacy release, Santana Live at the Fillmore.
Yet another highlight is Soul Sacrifice...a composite of extended Santana jams. The best elements were gleaned from the jams, polished for the Woodstock appearance and further refined for Santana I. Even the studio version of Soul Sacrifice cooks.

This debut album is high octane. Except for the intro to Treat there is not a moments rest for the listener. Santana's star was quickly rising. Five Stars. GG



Abraxas


FIVE STAR RATING * * * * *

Deservedly, Black Magic Woman/Gypsy Queen, Oye Como Va and Samba Pa Ti get the airplay from DJs and ink from rock critics. However, one of the most profound statements Santana, as a group, has ever made is Incident at Neshabur.
About a minute into the piece Rolie delivers a compelling solo on his Hammond B3 as the percussionists, Shrieve, Carabello and Areas set a furious pace. Shrieve gives his high-hat a workout during Rolie's solo. Next up is Carlos whose solo continues for a while at the same pace. He presents something new to Santana fans...a jazz improvisational style solo. He climbs and meanders before spiraling down to a slow romantic tempo. The slow segment of Incident at Neshabur imparts some of Carlos' most elegant work. The sustained notes alone must be counted among the most beautiful in the history of electric guitar.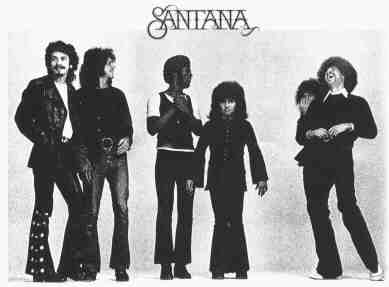 Carlos Santana, Gregg Rolie, Dave Brown, "Chepito" Areas, Mike Shrieve, Mike Carabello

Interestingly, Incident at Neshabur was originally recorded during the Santana I sessions at Pacific High Studios, but held and released on Abraxas. Rolie says, "Incident at Neshabur was one of my favorite things. We did time changes, colors, and things that musically were very sophisticated. It was a perfect combination of Horace Silver and Big Black, with Aretha Franklin singing that Burt Bacharach song, 'This Guy's In Love With You', we'd combine things we had a passion for."
On the multi-media CD-ROM, A History of Santana: the River of Color and Sound, published by Graphix Zone, in 1996, Carlos explains that the inspiration for Samba Pa Ti came to him while in New York City. There was a man outside his window who was wrestling with himself over which to put into his mouth, the bottle of booze in his back pocket or the saxophone he was holding. Samba Pa Ti first came to Carlos as a poem. He put music to the poem, and it became a Santana instrumental classic. Carlos states that women from all over the world have shared with him that they got pregnant to Samba Pa Ti.
Gregg Rolie shares the following, "We took a little more time and went after a better sound quality on this album. Incident at Neshabur was recorded for the first album, but Fred Catero mixed it to sound like it was recorded at the same time as the rest of Abraxas. I sang Black Magic Woman one time through with no overdubs. While Playing Samba Pa Ti, Carlos played so hard that his earphones came off. He continued on even after he couldn't really hear the rest of the music anymore. Amazing! This is still my favorite album."
Abraxas was well received by fans and critics alike. Released in October of 1970, it rose to the number one spot on the Billboard charts where it remained for six weeks. It was one of the best selling albums of 1971 and was on the Billboard chart for a total of 88 weeks. Many consider Abraxas as Santana's crowning achievement.

Although there would be much more music ahead for Santana the band and Carlos the man, for Santana the group, Abraxas was their masterpiece. Five Stars. GG